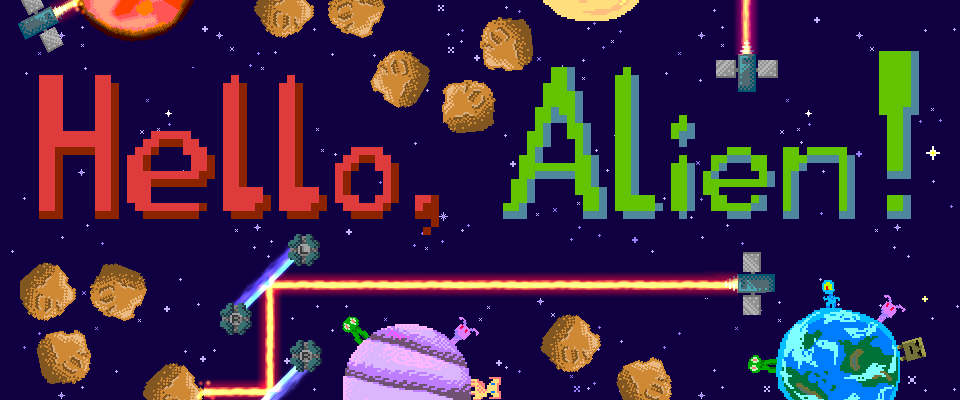 Hello, Alien!
A downloadable game for Windows, macOS, Linux, and Android
"Hello, Alien!" is a puzzle game where you have to restore the communication network powered by laser technology. Use mirrors and splitters to redirect the lasers to establish a connection and create an inter-galact-net. But be careful with those lasers, you don't want to end up "accidentally" frying those aliens. ;)
Features
100% (not guaranteed) scientifically correct laser physics.
40 levels
Amateurish Stylish pixel-art!
Solve difficult Puzzles using tools like mirrors, splitters, bombs, warpholes and lasers!
Multi-Touch Support, plays great on tablets.
Read funny (and sometimes stupid) dialogue of alien inhabitants.
Fry aliens "totally on accident" with.... you guessed it... moar lasers.
Support the developers
This game originally created for Ludum Dare 30 and was repurposed for October Challenge 2014. The goal of this challenge is to make 1$ profit by publishing a game.
We are giving away this game for free, but you can pay what you want.
Changelog
v0.6 - (01.11.2014) Open Beta release
v0.7 - (09.11.2014) Added five levels and fixed an issue that rendered the game unplayable on too small screen resolutions
v1.0 - (01.12.2014) Added more levels and fixed various bugs.
v1.1 - (02.12.2014) Fixed some bugs.
v1.2.2 - (30.09.2016) Lots of bugfixes, revamped the UI and Play Store Release

Download
Click download now to get access to the following files:
Hello_Alien-1.2.2.apk
5 MB
Hello_Alien-1.2.2.jar
11 MB
Also available on